Ever wake up with a jolt of cortisol and race right into your to do list for the day without thinking of fueling your body and brain? Maybe you grab an energy bar or just head out the door with a dose of caffeine only to find yourself short on patience and stressed by mid-morning. Did you know that making a smoothie can be a perfect way to boost servings of plants and get you off to a healthy start to your day as fast as eating a muffin with a much better nutritional profile!
Drinking our food like in a smoothie is very healing on our gut and delivers a fast nutritional punch to our body. It's partially digested which gives our body a rest, sending energy to other areas. Sometimes, like when we are sick, our body can really benefit from the ease of sipping on a plant-based power drink. Smoothies can be customized to your liking and specific needs as well. It's an economical way to use up ripe produce like bananas and other fruits. Throwing in a handful of spinach or other greens packs in phytonutrients and enzymes found in those foods.
What's the difference between a juice and a smoothie? Blending our plants and including the fiber and protein has the benefit of including all the vital parts of the plant. You can even include seeds and a bit of the peel of most fruits. In fact, the skin of a pineapple is where the most concentration of bromelain is found, include a little sliver in your next smoothie. Lemon peel is a great source of Vitamin B and gives your smoothie a fresh, revitalizing flavor. When we juice plants, we are taking out the bulk of the fiber which is an important part of the plant that we tend to be deficient in because of our highly processed diets. I'm a fan of the Vitamix, however any blender that will pulverize greens and berries will do.
Remember to add a healthy fat to your smoothie to make it more satisfying and support your brain. Some good examples are coconut oil, avocado, nut butters, and seeds. If you find your sweet tooth appearing on an evening or afternoon, try making a themed smoothie like chocolate, banana, peanut butter, instead of reaching for packaged snacks that won't serve your body nearly as well. Adding in the extra fiber from plants can help to remodel your gut quite quickly and you might find those cravings staying at bay.
I like to keep a plant-based protein powder on hand to boost the nutrition of my smoothies, and for an easy shortcut when I'm busy. My favorite is Juice Plus Complete chocolate which I blend with frozen cherries, nut butter, and spinach regularly.
Many of the most common health challenges that we experience like heart disease and Type 2 Diabetes could be prevented or bettered by smoothing out the blood sugar spikes that come from a high sugar, low fiber, processed diet. Leveraging the power of produce and streamlining our morning routine with a daily smoothie assists our body in protecting itself and staying in balance.
How would your day be enhanced with the simple habit of a daily smoothie?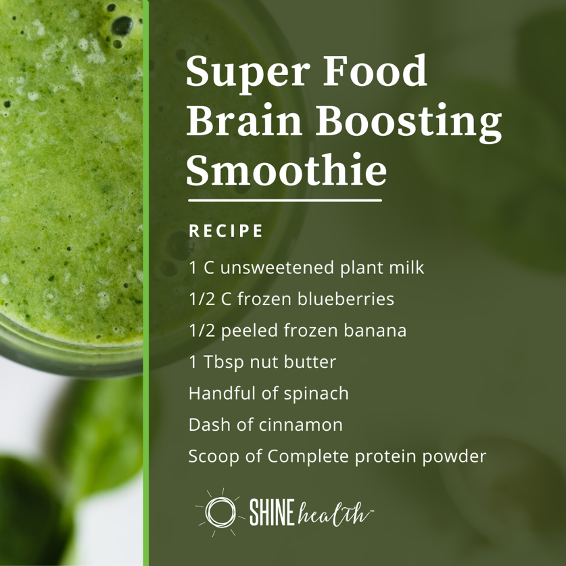 This is one of my favorites, and the bright green color is stunning – good enough to drink!
https://shinehealthcollective.com/wp-content/uploads/2022/02/napitki-smuzi-frukty-ovoshchi.jpeg
850
1332
Suzy Lewis
https://shinehealthcollective.com/wp-content/uploads/2023/01/logo-nav.png
Suzy Lewis
2022-02-10 16:32:36
2023-01-18 13:56:32
Healing Power of Smoothies